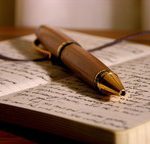 I leave tomorrow for a four-day essay workshop up at Lake Tahoe with six other women, which includes our leader, the brilliant writer and teacher, Ana Maria Spagna.
Yess!  That ought to get my butt in gear, ay?  With this weird mode I've been in I'm just a teensy bit worried that I'm going to freeze up, you know, like what on earth am I going to write about, why aren't the words streaming onto the page?  As to the latter, who am I kidding, the words have never streamed onto the page, especially, not when I'm on the spot to perform.  Just as long as I don't come up completely empty.
But hey, at least I'll have fun.  This is about the seventh workshop I've taken with Ana Maria, mostly on memoir while I was writing Loveyoubye, in different places from the tiny community of Stehekin, gateway to the North Cascades National Park where she lives to Cannon Beach, Oregon, to Molokai, always under one roof.  Other than the very serious, illuminating learning that goes on, it's truly fun.  I make new friends and reconnect with old.
We start out by buying groceries together–one time, we overbought and ended up stocking Northern Washington's food bank for a good long time; we've gotten better at it.  Then there's the drawing straws for rooms, communal cooking, sharing our writing, wine drinking, hot tub soaking (Stehekin), jogging on the beach (Cannon Beach, Molokai) and delicious late night discussions about writing.
It's all good.