At the beginning of our weekend getaway, I wrote that we were "open to serendipity." Well, that happened on Sunday morning on our way to the Annenberg and Hammer Museums. Deciding to take a detour down Main Street, we stumbled across a Farmer's Market, which couldn't have worked out any better as we'd missed the big one the previous day. This one was small, but friendly and cozy with a selection of fresh vegetables and food vendors unlike I'd ever seen at any other Farmer's Market, notably the Laguna Beach one. There was music; there were dogs, people stretched out on a strip of lawn in front and a wonderful Victorian house, which was available for civic events with restrooms for market goers. It was in front of this house at one of the tables that we read the newspaper, shared a mushroom, onion, spinach, and cheese scrambled omelet along with a fresh mango drink and coconut juice, right from the coconut before heading for the Annenberg.
Finding the place wasn't a problem—as Laural told me when I asked if she needed my GPS for the trip, "I am a GPS"—except there was a bit of a mix-up getting into the right parking garage due to the filming of a commercial. We parked somewhere in the bowels of a structure behind the Annenberg. Instead of taking the stairs or elevator, we walked up the down. That screwed us up when we returned. Couldn't find Laural's bright blue Honda Element. She'd parked it right there by the staircase, hadn't she? Space 182. Thirty minutes later, after charging up and down aisles that must've been numbered by some sadistic bastard, all the while becoming more and more sweaty and a tad panicky—we could be tomorrow's headlines—we finally found the little blue gem parked in a whole other area of the parking structure that hadn't existed before. In spot #182. During the search neither of us lost our cool; it was all part of our weekend adventure. We mused that if this had happened to either one of us with our husbands—my ex, her current—it probably wouldn't have been termed an "adventure".
That evening we took our limo, Santa Monica's dollar-a-ride Blue Bus back down to the beachfront and had a glass of wine at the historic Georgian Hotel. Couldn't resist the art deco pizzazz of the place. A celebrity hideaway during the early days of Hollywood, the Georgian used to house a popular speakeasy and is now rumored to be haunted by certain unearthly guests. So there we sat on the verandah, sipping our Syrah's and gazing up at the half moon above the palm trees, communing with the spirits.
After our less than thrilling dining experience at Border Grill, I was a little anxious about Tar & Roses. I mean I'm the one who made all the arrangements. Would it live up to the hype? Okay, so the place rocked. Well, almost. The wood roasted asparagus with pancetta, frisee and coddled duck egg—listed as a "small" plate"—was one of those dishes where you stop midway through the first bite and explore the food with your tongue trying to decide what made your taste buds do the Blues Brothers tap dance. The duck breast with bloomsdale spinach, bing cherry chutney and hazelnuts—a "large" plate—hit all the right notes, but at the twice the price and as someone who loves little itty bitty sized meals, I can tell you this was stingy. Yes, I'm taking points away for size. Ah, but then came the dessert that we shared: Strawberry Ricotta Crostada. Holy shit! A mix of strawberry and blood orange sprinkled with thyme served on a buttery sugar dusted pastry, along with honeycomb ice cream, almost had me in a fork fight with Laural for a bigger share. I've got to tell you, this kind of dessert is usually not my thing, but I absolutely swooned over this one.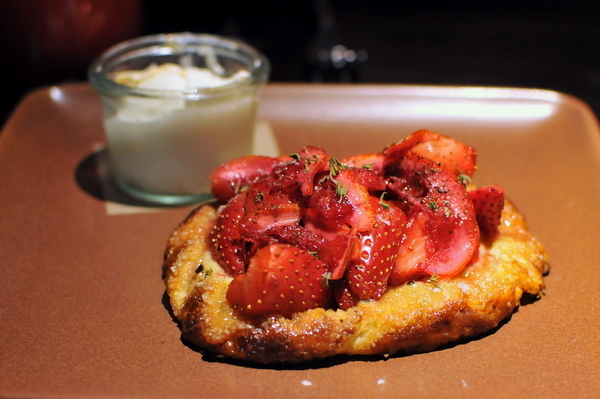 We ended the evening in our motel's telephone booth-sized dry sauna—obligingly opened by the desk clerk after the 10 pm deadline—then headed for the rooftop terrace with its astro turf, bogus ferns and Greek statues where we hoped to lie on the chaise longues and gaze up the moon. It was closed for the night. We trudged back down to our room. Our adventure was over.