The image of this purple rose filled me with a feeling I can't quite describe. I wanted to possess it in some way. Anyway, that was the impetus for this story I managed to wring from Lillie McFerrin's Five Sentence Fiction this week. Let me know what you think.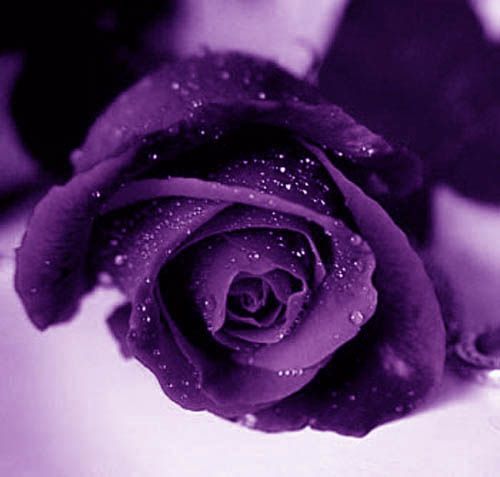 Clive almost ran the two miles across town to give Britney the purple rose he'd rescued from the trash where it had been tossed by his mother moments before. It had been the only purple rose in the bouquet of roses she'd bought herself earlier that afternoon—her first Valentine's Day as a Divorced Woman. Eyes bright and sipping a glass of wine too quickly she'd arranged the flowers, telling him how lucky she'd been to find that purple beauty, her favorite color. But then two glasses of wine later, she was still arranging the flowers, mainly moving the purple rose from one position to another amongst all the pinks and reds.
"Did you know that a purple rose stands for enchantment?" She didn't wait for an answer. "Yes, indeed, when you give the object of your affection a purple rose you're letting them know that you fell in love with them at first sight and that it's forever." She took another sip of wine and was silent for a moment staring at the rose, and then said in a whisper. "I wonder how many purple roses he's been giving out lately." And then she was crying, muttering how she'd been such a fool, still hopelessly caught in the enchantment of that first purple rose. That's when she'd tossed the entire bunch into the trash can.
Before he knew it, Clive had rescued the rose, plump and full and breathtaking beautiful, drops of water still glistening on its petals like diamonds. He couldn't help himself. His heart swelled with a feeling that something wonderful was about to happen. Britney. He had to tell her he loved her. He would ignore the fact that she'd always given him 'what is your problem' looks whenever he stared at her adoringly. The purple rose would change everything.
Trying not to strangle the stem of the rose and panting with the exertion of his run, he turned onto Stargaze Drive, two blocks away from Britney's house and stopped in front of a small tract house not unlike the one he lived in. Lizzie Morecambe: the class brain, his partner in lab; they used to exchange the lunches their mothers made for them in grade school. And then he was walking up to the door, his heart feeling as if it would burst. He had to give the rose to Lizzie.